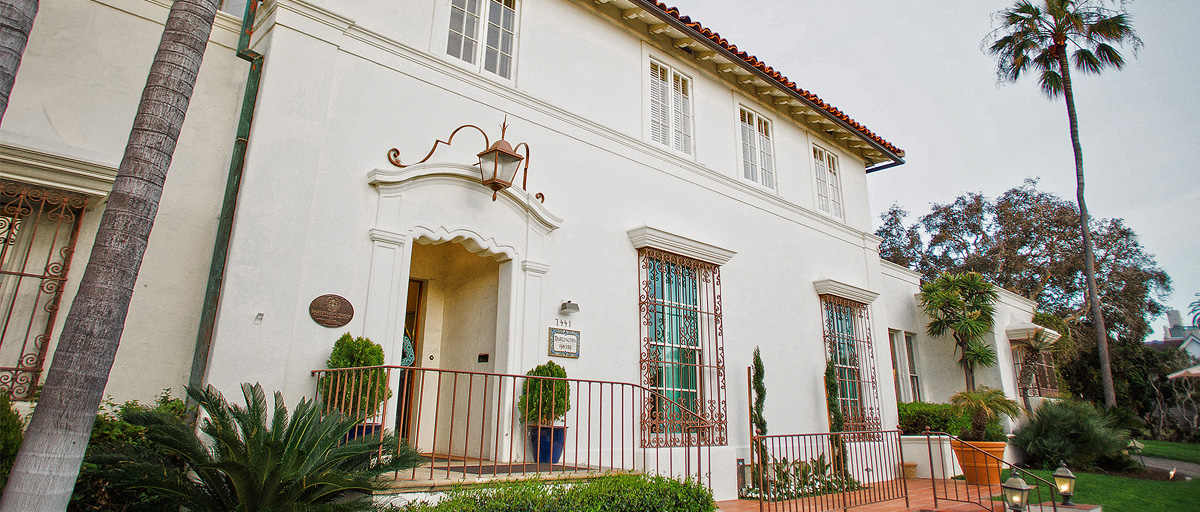 Darlington House is alive with designs and details from many cultures. Enter into a foyer with an Italianate chandelier and a romantic sweeping staircase. The warmly decorated living room's double French doors lead to the Egyptian Patio, which features a beautiful, colorfully tiled fountain surrounded by lush succulents and wispy grasses. A stroll away, the Andalusian Patio is adorned with Roman arches and Azulejo tiles in the style of southern Spain. Another step takes you into the Library, inspired by Moorish architecture and filled with the changing shadows of sunset and the warmth of a Moroccan fireplace. Further on is the Rose Garden's charming brick patio, surrounded by roses, succulents, camellias, and a bubbling tiled fountain.
Once the seasonal home of Mrs. Sybil Darlington, Darlington House still echoes a lifestyle of gracious living, elegant dinner parties and delightful musical concerts. Darlington House is available every day, including weekends. It awaits you and your personal celebration or special occasion. Whether you are planning a small gathering or a large gala, Darlington House offers an unforgettable venue for your special day.
From the moment you book your event to the day everything comes together, our staff will ensure that you and your guests have a relaxing and unforgettable experience.
Learn more at darlingtonhouse.org.